The Best Clean and Natural Hand Soaps Gentle On Skin
Many traditional hand soap brands and soap products are filled with skin-irritating ingredients and toxic fragrances. Instead, washing hands with non toxic hand soap alternatives is the better option. You can even feel the difference on your skin because non toxic hand wash tends to have skin-softening ingredients and are more gentle on the skin.
So we've gathered the ultimate list of the best non toxic hand soaps that will get you clean hands without the toxic chemicals. Let's first look at what ingredients to avoid in hand soap and then go into the best products.
Some links may be affiliate links which means if you choose to make a purchase, I may earn a small commission at no extra cost to you. As an Amazon Associate, I earn from qualifying purchases. Thanks for your support!
What ingredients should I avoid in soap?
Parabens: These are synthetic preservatives and can cause hormone disruption and other health issues.
Formaldehyde: This is used as a preservative but it can cause skin irritation and is a known carcinogen.
Phthalates: These are used to allow fragrances to absorb better into the formula. But it may cause hormone disruption and skin irritation.
Synthetic Fragrances: Synthetic fragrances can cause skin irritations and allergies. Certain safe synthetics are safe to use in air fresheners or perfumes since they're not applied to a larger area of skin. For hand soaps, use products with natural or essential oils as the fragrance.
Triclosan: This is an antimicrobial agent but it can potentially harm your endocrine system, cause skin irritations, and cause respiratory issues.
Synthetic Dyes: Artificial dyes can cause skin irritations in some people with sensitive skin.
Sulfates (Sodium Lauryl Sulphate and Sodium Laureth Sulfate): SLS and SLES are sulfates that are used in conventional soaps for foaming properties. However, it's harsh on the skin and causes the skin to feel dry.
Methylisothiazolinone: Methylisothiazolinone is a preservative used to prevent microbial growth. But it can be concerning for some people with sensitive skin because it can cause skin irritations and allergic reactions.
Propylene Glycol: Propylene glycol is used as a humectant and can cause skin irritation for some.
---
Best Non Toxic Hand Soaps
Attitude Super Leaves Natural Hand Soap is our top pick for the best non toxic liquid hand soap because it's not only 100% non-toxic but also has nourishing skin care ingredients.
The Orange Leaves scent has orange leaves which gives you skin antioxidant-rich nutrients. There's also moringa seed extra to help detoxify your skin.
The Attidue natural hand soap is EWG Verified, ECOLOGO-certified, and PETA-approved. It's an SLS-free, formaldehyde-free, silicone-free, and paraben-free hand soap.
This hydrating hand soap comes in a 16 fl oz recyclable bottle. The clean scents they have are orange leaves, white tea leaves, red vine leaves, olive leaves, red vine leaves, and unscented.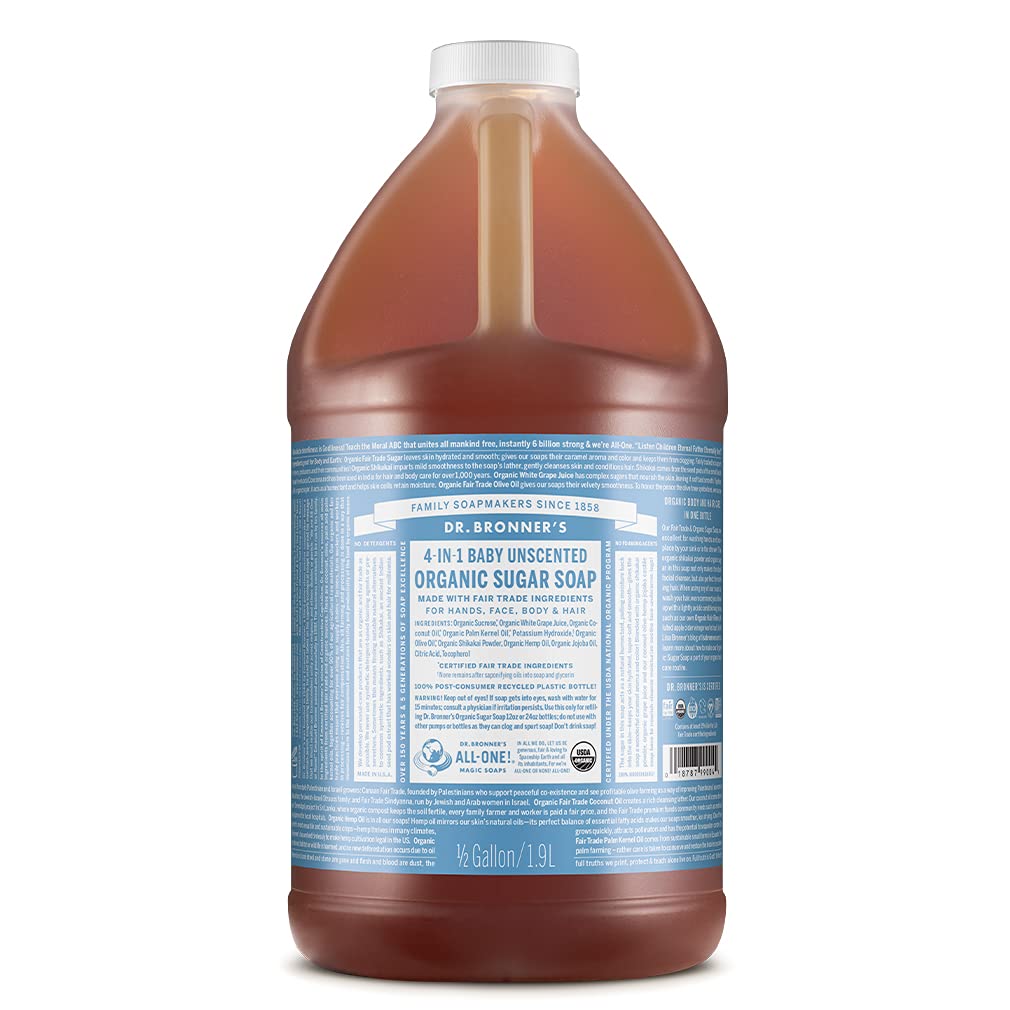 Dr. Bronner's Organic Sugar Soap is one of the best sugar soaps that will keep your hand hydrated and smooth.
The natural hand soap contains pure essential oils, organic sugar, organic shikakai powder, and organic coconut olive-hemp oils – all of which are naturally derived ingredients.
The formula of Dr. Bronner's sugar hand soap has a low pH so it's very gentle. If you tend to have really dry hands, your hands are going to love this natural soap.
Because this comes in such a large half-gallon jug, it's one of the best natural hand soap refills. It's easy to put into your hand soap dispenser to use over and over again.
The scents they have include fragrance-free, lavender, peppermint, lemongrass, and tea tree.
Dr. Bronner's Pure Castile Soap is a very concentrated soap that will last you a long time. Just add some distilled water to it and you'll have safe hand soap that will nourish your skin.
It's made with organic hemp, olive, and coconut oil that's free from preservatives or synthetic detergents. It's also fragrance free. This is also a versatile soap because it can be used as a shampoo or even dish soap.
The nontoxic soap is also certified organic, vegan, and cruelty-free. The soap ingredients are very minimal which makes it the best all natural hand soap.
This comes in an 8 fl oz bottle. The scents they have are baby unscented, peppermint, almond, lavender, citrus, tea tree, rose, and eucalyptus.
EO Liquid Hand Soap is one of the best lavender hand soaps.
The lavender scent from the hand wash comes from pure essential oil and is not made with synthetic fragrances. It's also triclosan-free, cruelty free, paraben free, sulfate-free, and gluten free.
The lavender scent is so refreshing and the natural soap is not harsh on your hands. The lather is nice and a great choice if you want hand soap without sulfates.
This comes in a 1-gallon jug, 32 fl oz bottles, or 12 fl oz bottles with the pump. They also have lemon and eucalyptus and unscented options.
This brand also has some of the best hand sanitizers!
Attitude's Sensitive Natural Hand Soap is the best hand soap for sensitive dry skin. The oatmeal and chamomile ingredients inside this most natural hand wash do a great job of soothing sensitive hands.
Attitude is one of the most reliable and best non toxic hand soap brands because just about all of their hands soaps are EWG verified. This liquid hand wash is also free of artificial dyes, SLS, SLES, parabens, formaldehyde, synthetic fragrances, and harmful chemicals.
This could be a good choice of hand soap for eczema since it likely won't irritate the hands.
This big pump bottle is 16 fl oz. The scents they have include unscented, chamomile, avocado oil, and argan oil.
Kosmatology Hand Soap is a natural foaming hand soap made with organic essential oils and other organic oils. There's no triclosan and does not have anti-bacterial agents.
The clean hand soap has natural foaming agents that lather well and leave your hands feeling very clean and soft. This organic hand soap is made with synthetic fragrances and formulated for sensitive skin so it won't irritate your hands.
This comes in an 8.5 oz pump bottle. They have scents including unscented, grapefruit, lavender-eucalyptus, lemon, orange, and spearmint-rosemary.
Eco Me Hand Soap has antibacterial properties that clean your hands with essential oils and no synthetic fragrances.
This is a sulfate free hand soap that does not test on animals. The soap also doesn't have ingredients that will dry out your skin.
Antibacterial hand soap might not be for everyone because there is a risk of killing dangerous bacteria.
This plant-based soap comes in a 20 fl oz bottle. They have fresh mint and citrus berry scents.
Most castile soaps contain a high concentration of coconut oil to make them soft on the skin. But there's another ingredient that is a better moisturizer than coconut oil and that is olive oil.
This Carolina Castile Hand Soap contains 100% organic olive oil. So it's a very moisturizing hand soap. It also has no artificial fragrances, no palm oil, and no testing on animals.
Because this is a pure castile soap, it's very versatile and can be turned into a body soap, shampoo, laundry soap for handwashing, and dish soap.
They have unscented, lavender, peppermint, sage lime, and tobacco vanilla scents.
Everyone is a non toxic hand soap brand and clean cleaning products brand that contains no synthetic fragrances, triclosan, and other harmful ingredients.
These no chemical hand soaps are EWG verified so it's non toxic. The scent is made with essential oils and smells very natural.
These hand washes have a wide range of scents including lavender and coconut, lemon and mandarin, and apricot and vanilla.
J.R. Watkins foaming hand soap is a nourishing naturally derived plant based cleanser free of parabens, dyes, or phthalates.
This healthy hand soap leaves your hand feeling very smooth and not dry.
Because it's a foaming hand cleanser, the product rinses off incredibly easily. But of course, you still want to wash it long enough to get the bacteria out.
They have aloe & green tea, coconut, grapefruit, lavender, lemon, neroli & thyme, ocean breeze, and vanilla mint scents.
Alaffia liquid hand soap cleans really well and moisturizes your hand with shea butter and coconut oil They use no synthetic fragrances, sulfates, and SLS.
The non-toxic soap brand is also fair trade certified so they have an environmentally responsible supply chain.
They have many different scents including peppermint, lavender, and lemon – all of which only use natural fragrance ingredients.
Attitude Little Leaves hand soap is a gentle foaming hand wash for kids and babies. So it's formulated for sensitive skin and with a light fragrance.
The product is EWG verified and is one of the safest hand soaps. It also foams up quickly so it's easy to wash away, which is especially enjoyable for little kids.
They have interesting scents including blueberry, watermelon & coco, mango, and vanilla & pear.
Blueland is a non toxic cleaning brand that makes cleaning more eco-friendly. They reduce plastic whenever possible.
Blueland's hand soap refill packs can easily be used by dropping a tablet in your glass bottle and filling it with water.
Their natural hand wash tablets are made without parabens, phosphates, ammonia, VOCs, chlorine bleach, or phthalates.
Because this is in the form of a tablet, no need to worry about drippy liquid and bulky packaging. And since they're non toxic hand soap refills, it's easy to replace once you run out.
The scents they have are lavender eucalyptus, evergreen, perrine lemon, pacific mint, iris agave, and fragrance free.
We have a detailed review all about Blueland hand soaps here.
The Basis Sensitive Skin Bar Soap is one of the best non toxic bar soaps if you have sensitive skin or if you just want a gentle bar soap.
It's infused with natural calming agents like chamomile and aloe vera to soothe the skin. The bar soap is also fragrance free so it's ideal for all skin types.
This toxic free hand bar soap even doubles up as a body wash bar.
---
FAQs on Non-Toxic Hand Soaps
What are the safest hand soaps to use?
What is a healthy alternative to hand soap?
A healthy alternative to hand soap is body wash because it's also meant for your skin. Shampoo can also be an alternative to hand soap since it can be good for washing away germs. Dish soap should be your last choice but if you have nothing else, it can work as hand soap too. Using dish soap without chemicals is best.
Are scented hand soaps safe?
Scented hand soaps are safe as long as it doesn't have synthetic fragrances. Instead, look for natural fragrances like pure essential oils and plant based fragrances.
Is Ecos hand soap non toxic?
Ecos hand soap is considered non toxic but it's not recommended for people who have extra sensitive skin. It contains cocamidopropyl betaine, phenoxyethanol, and citrus grandis seed extract which can cause allergies and skin irritation.
The Ecos hand soap in the orange blossom scent should be avoided if you want a non-toxic hand soap because it contains "fragrance" which oftentimes can hide many toxic chemicals inside. Overall, there are safer hand soap alternatives that do not contain these ingredients.
Is Mrs Meyer's hand soap non toxic?
Many people assume Mrs. Meyer's products are non toxic but they are not as non toxic as you think. All of their liquid hand soaps contain "fragrance" which is a term many brands use to hide anything under. It also contains methylisothiazolinone which is a preservative that can cause skin irritations. Methylisothiazolinone has also been banned in Europe and Japan.
Is Seventh Generation hand soap non toxic?
Seventh Generation is not completely non toxic. It has a score of 2 on EWG but there are some concerning ingredients like glyceryl caprylates odium benzoate which can cause skin irritations and allergies. You're better off choosing other natural hand soaps without these ingredients!
Are bath and body works hand soaps non toxic?
Bath and Body Works hand soaps have toxic ingredients. There is cocamidopropyl betaine which triggers allergies. There's also disodium laureth sulfosuccinate which causes skin, eye, and lung irritation. Ingredients like benzyl alcohol, propylene glycol, and tocopheryl acetate all cause allergies and irritations.
Bath and Body Works does also have "fragrance" so it can hide potentially toxic chemicals under that term.
Is gel or foam hand soap better?
Foam hand soap may be less effective than gel hand soap because the amount of soap per pump is less than liquid gel soap. Also, liquid soap lather is created by rubbing your hands together whereas foam soap already has lather. That process of creating the lather helps get rid of more germs. But ultimately, both are effective at washing germs off your hands.
---
For more non toxic cleaning and non toxic fragrance guides, check out these posts!